Introduction
Product information
Stacking insert basket for storage and transport of small or difficult-to-stack crockery items, e.g. in tray transport trolleys with Euronorm insert.
Stackable 19.3 ¡Á 13.0 ¡Á 4.3'' (490 ¡Á 330 ¡Á 108 mm) basket, welded to a 20.9 ¡Á 14.6'' (530 ¡Á 370 mm) insert frame, in hygienic design, made of high-quality, silver grey, plastic-coated stainless steel round material. ø 0. 20'' (5.0 mm) basket frame and basket base with 1.0 ¡Á 1.0'' (26 ¡Á 26 mm) mesh size and ø 0.1'' (2.5 mm) basket walls.
The HT plastic-coated stackable insert basket 530 ¡Á 370 ¡Á 108 mm is made of non-rusting stainless steel, and features a particularly soft special polyamide coating, allowing comparatively low-noise crockery transport, and its rack in Euro norm dimensions makes it suitable as a transport and storage unit for a wide range of purposes in the kitchen area.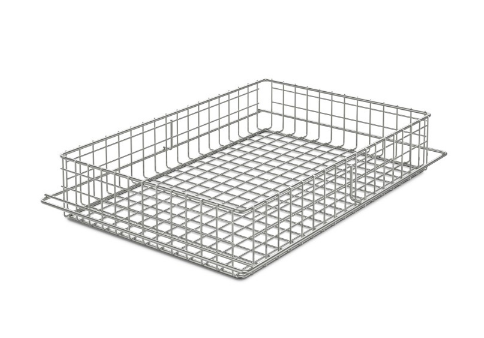 Technical data
Temperature resistance: -50 to +80¡ã C
Weight: 1.78 kg
Width: 530 mm
Depth: 370 mm
Height: 108 mm
More Products