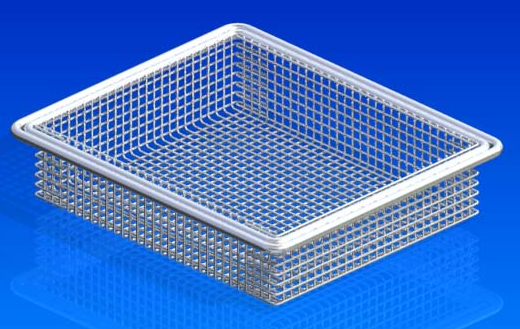 Introduction
Ultrasonic Cleaning Baskets
We are specialized in producing and exporting ultrasonic cleaning baskets made of 100% high quality stainless steel. Every order is custom made for our customers in aerospace, industrial, medical and ultrasonic cleaning industries to decontaminate and degrease many electronic parts, medical treatment and instruments.
If you need a basket for part washing applications or handling small objects, then a mesh basket is an ideal product for you. We have made thousands of custom steel baskets types and racks. We meet our customers exacting needs in the pharmaceutical, defence, automotive and aerospace industries.
Dimensions£º
Material: stainless steel 304 or 316.
Wire diameter: 0.5¨C6 mm.
Aperture: 3¨C10 mm.
Handle: customized.
Lock: customized.
Features£º
1.Stainless steel material with polish treatment, bright and good resistance to corrosion and rust.
2.Stable structure will not deform.
3.Without any prominent welding spot, welding injury, burr and shedding.
4.Handles and locks can be customized as customers; requests.
5.Different layers options.
Applications£º
Ultrasonic cleaning baskets are suitable for medical treatment and experimental sterilizer as well as aerospace and ultrasonic cleaning industries.
¡¤ The stainless steel wire baskets are used to clean, disinfect and sterilize surgical instruments and diagnostic and treatment instruments together in the instrument tray.
¡¤ The ultrasonic cleaning baskets are widely used in medical units and hospital departments, such as operating room, supply rooms, disinfection rooms, dental clinics, wards and other medical institutions related to cleaning, disinfection and sterilization.
¡¤ Ultrasonic cleaning baskets are widely used in aerospace and ultrasonic cleaning industries for ultrasonic cleaning of small parts and components.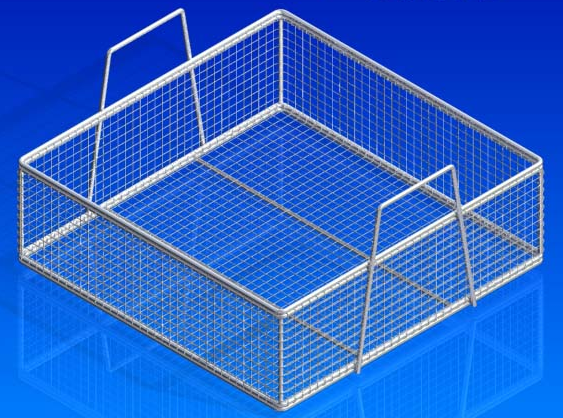 Why Ultrasonic Cleaning?
The ultrasonic cleaning process offers the perfect balance of being aggressive enough to rid your products of contaminants while being gentle enough to preserve their longevity. Ultrasonic cleaning uses a process called cavitation. Transducers generate high-frequency sound waves inside a liquid, like water or another aqueous solution. Those compression waves essentially ¡°tear¡± the liquid, causing millions of microscopic vacuum bottles. Because of the enormous heat, the bubbles collapse and produce up to 20,000 lbs. per square inch of pressure. They implode as tiny jets and travel at speeds within the liquid up to 250 mph. The resulting agitation is strong enough to pry containments that adhere to substances such as metal, plastic, glass, rubber and ceramic. The jets are also minute enough to not mar the part.
Ultrasonics is a widely used method of commercial and industrial parts cleaning because of the cleaning solution it uses. Conventional detergent wash runs the risk of ruining the object, or it might not reach all areas of small, intricate parts. The restriction of chlorofluorocarbons and other chemicals is another reason why ultrasonic cleaning has become a more popular method for parts cleaning.
More Products